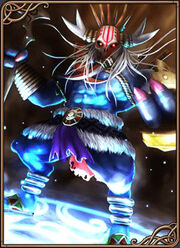 Orc ShamanEdit
Locations
Edit
Extra quest: Illusion in the Sand
Beast of Prey's Two Horns.
Practitioner's Loincloth.
Practitioner's Gauntlets.
Pretty Bracelet.
Blood Red Claw (Rare Drop/Quest Reward).
Breakable Points
Edit
Rarity
Skills
Cost
★(1)

Aura of Might

(Atack Buff 10% UNTIL DEATH)

Escalation A

(Share Attack Buff)

15
★★(2)

Stalwart Body

(100% Defense Buff UNTIL DEATH)

Escalation D

(Share Defense Buff)

15
★★★(3)
Stagger Resist Up Lv.2
10
★★★★(4)
Orcish Drain
10
★★★★★(5)

SP Recovery

From the Brink of Ruin

5
★★★★★★(6)

Tension Up Lv.4

- Defense Down Lv.2

15
★★★★★★★(7)
ODS
10
★★★★★★★★(8)

Improved Torque

Blaze DS

10
★★★★★★★★★(9)

Sp Boost

Staff Aptitude

30
★★★★★★★★★★(10)
Orcish Trans
10
Ad blocker interference detected!
Wikia is a free-to-use site that makes money from advertising. We have a modified experience for viewers using ad blockers

Wikia is not accessible if you've made further modifications. Remove the custom ad blocker rule(s) and the page will load as expected.