Ad blocker interference detected!
Wikia is a free-to-use site that makes money from advertising. We have a modified experience for viewers using ad blockers

Wikia is not accessible if you've made further modifications. Remove the custom ad blocker rule(s) and the page will load as expected.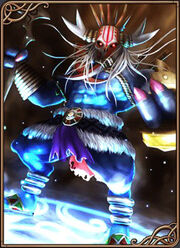 Orc ShamanEdit
Locations
Edit
Extra quest: Illusion in the Sand
Beast of Prey's Two Horns.
Practitioner's Loincloth.
Practitioner's Gauntlets.
Pretty Bracelet.
Blood Red Claw (Rare Drop/Quest Reward).
Breakable Points
Edit
Rarity
Skills
Cost
★(1)

Aura of Might

(Atack Buff 10% UNTIL DEATH)

Escalation A

(Share Attack Buff)

15
★★(2)

Stalwart Body

(100% Defense Buff UNTIL DEATH)

Escalation D

(Share Defense Buff)

15
★★★(3)
Stagger Resist Up Lv.2
10
★★★★(4)
Orcish Drain
10
★★★★★(5)

SP Recovery

From the Brink of Ruin

5
★★★★★★(6)

Tension Up Lv.4

- Defense Down Lv.2

15
★★★★★★★(7)
ODS
10
★★★★★★★★(8)

Improved Torque

Blaze DS

10
★★★★★★★★★(9)

Sp Boost

Staff Aptitude

30
★★★★★★★★★★(10)
Orcish Trans
10