Ad blocker interference detected!
Wikia is a free-to-use site that makes money from advertising. We have a modified experience for viewers using ad blockers

Wikia is not accessible if you've made further modifications. Remove the custom ad blocker rule(s) and the page will load as expected.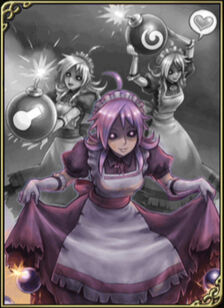 Ghastly Kafra MiseryEdit
Locations
Edit
Rarity

Skills

Cost

★(1)
Nitro Burst Lv1

Active Rest: HP

15
★★(2)
Attack Up Lv.4

AP Up Lv.4

15
★★★(3)
HP Up Lv.4

Tension Up Lv.4

20
★★★★(4)
Merge Energy
5
★★★★★(5)
Raise Up: AP

Attack Up Lv.1

5
★★★★★★(6)
Improved Healing Potion

Luck Up

20
★★★★★★★(7)
Aftercare
5
★★★★★★★★(8)
Over Limit

AP Up Lv.3

15
★★★★★★★★★(9)

Saint's Heart

Heal Effect Up Lv2

15
★★★★★★★★★★(10)
Happy Refrain
10
Drops and Cards are the same as the other Kafras, only their moveset and appearance differs.