Ad blocker interference detected!
Wikia is a free-to-use site that makes money from advertising. We have a modified experience for viewers using ad blockers

Wikia is not accessible if you've made further modifications. Remove the custom ad blocker rule(s) and the page will load as expected.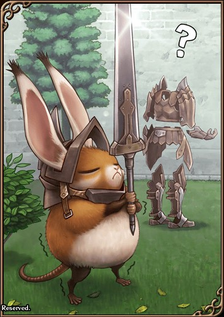 Domovois are the first enemies encountered in the beginning of the game. They are the weaker enemies (not as much as Porings are). Generally, they don't represent much as threats, since they are far from being powerful. But they can, however, be a bit of a problem in groups. Particulary, if their leader, a Don Domovoi, is present.
They attack with magic; although they will try to hit you with their staffs at close range. Another is their twirl spin, they rarely use.
Locations
Rarity
Skills
Cost
★(1)

SP Recovery

Easily Dazed

10
★★(2)
15
★★★(3)
10
★★★★(4)
Domovoi's Staff Training
15
★★★★★(5)
AP Recovery Up Lv.2
10
★★★★★★(6)

High Tension

Crit Power Up Lv.2

25
★★★★★★★(7)
Domovoi's Magic Training
15
★★★★★★★★(8)

Power Gems: Yellow

Power Gems: Star

5
★★★★★★★★★(9)

Crit Attack Up Lv.1

Crit Power Up Lv.1

5
★★★★★★★★★★(10)
Free Casting!!
10