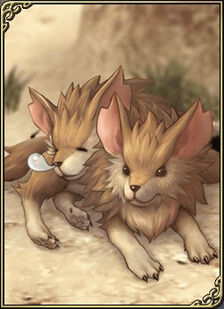 Desert Wolf CubEdit
Locations
Edit
Free Quest AC2-7: A Domovoi's Do-Don!
Cute Tail (Rare Drop)
Cute Fur
Cute Fang
Rarity
Skills
Cost
★(1)

High Tension

Improved Smackdown

10
★★(2)
HP Up Lv.1
Tension Up Lv.2
10
★★★(3)
Improved Healing Potion
10
★★★★(4)
Woof Woof!
5
★★★★★(5)
Improved Special Potion
10
★★★★★★(6)
Snatcher
15
★★★★★★★(7)

Super Duper Peppy

(HP & AP Regen + Tension Up)

15
★★★★★★★★(8)
HP Up Lv.2
Tension Up Lv.3
15
★★★★★★★★★(9)
Luck Up
20
★★★★★★★★★★(10)

Play-Biting

(Adds paralysis to attack)

10
Ad blocker interference detected!
Wikia is a free-to-use site that makes money from advertising. We have a modified experience for viewers using ad blockers

Wikia is not accessible if you've made further modifications. Remove the custom ad blocker rule(s) and the page will load as expected.